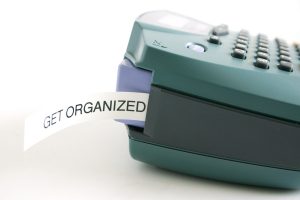 Spring cleaning gets all the attention…but I'm more about Spring Organizing. I know…you're surprised. 😊
But when your "stuff" is neat and tidy, your home actually feels cleaner.
I thought I'd share a few ideas to jump start your Spring Organizing Extravaganza!
And…if you get the cleaning bug while you're organizing, take a few moments to wipe away dust and dirt.
Coat Closet
Sort boots, hats, scarves and mittens. If you didn't use them this year, donate them. Transition the space so rain jackets, hoodies and sun hats are easy to access.
Entryway
Make this the year you finally set up a mail system that works for your family. Set aside a day each week to take care of paying bills. The goal is to eliminate towering stacks of mail that take and hour to sort because you've let it pile up. Take a couple of minutes each time you get the mail to tackle it right away.
SOS: If you can't seem to stop the paper from piling up, put a recycle bin and shredder front and center so junk mail never makes it too far past your front door.
Linen Closet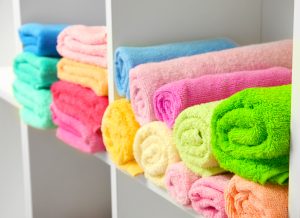 Sort through all the towels and sheets. Choose the best and donate the rest. If you use flannel sheets in the winter, swap them out with your warmer weather sheets and comforters. Store the out-of-season bedding higher up so the bedding you'll use for the coming months is right in front of you.
SOS: My husband and I have one set of sheets for each bed. Because I am a horrible fitted sheet folder, we wash and dry our sheets and put them right back on the bed. No folding required…and no storage space needed! 😊
Kitchen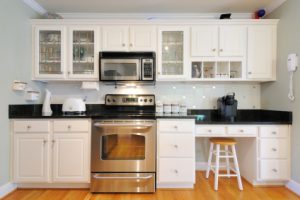 Do a quick run through with the intent of purging what you don't use. Every year, I find something I can let go of. This year it was my muffin and Bundt cake pans. I'm not a baker and I'm never going to be a baker. They were just taking up space.
Pantry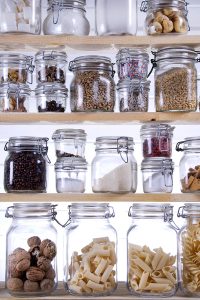 Take some time to dig through the pantry and toss out expired food or food you know you and your family aren't going to eat. Categorize what's left so like items are stored together: breakfast, snacks, canned goods, etc.
Closet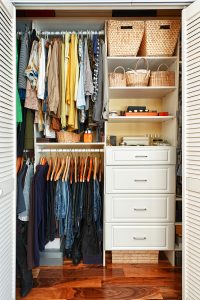 If you're like a lot of people, you store out of season clothes in a spare room closet. Before you make the seasonal swap, go through all of your winter clothes. If you didn't wear them this season, donate them. No need to replace them now…it's time for short sleeves and shorts! Just think of the fun you'll have come Fall if you decide you need to replenish.
Bathroom
Toss expired medicines and products you aren't using. You might be surprised how many of those bath and beauty products you've tried but didn't like. And those free samples? Let them go! Keep what you use and enjoy a less cluttered cabinet.
Electronics
I can't tell you how many clients have random cords, cell phone cases and old computers just hanging around taking up space. One of my clients still has one of the ginormous desk top monitors from back in the day. Back up any digital data onto an external hard drive (you certainly don't want to lose important documents and photos!). Then gather up all the old tech and drop it off at a recycling center.
SOS: If you're in the market for a new computer, back up everything on your old computer and donate it or recycle it once you have your new one. Don't hang onto it "just in case." "Just in case" sometimes means things pile up for years!
Garage
Do a quick purge of winter sporting goods you didn't use this year. Put what you keep higher up in the garage so you can move all of the spring and summer sports toys (and camping gear) into an easy-to-access part of the garage.
SOS: Take a moment to sweep out the garage to get rid of all the dirt and salt dragged in over the winter.
Ahhhh…now doesn't that feel good?! I just love a good Spring Organize! 😊