Room to Play
All you parents will appreciate this playroom organizational challenge. 🙂 It's really never too early to teach kids how to put away toys when they're finished playing. But first, everything needs a home. SOS sorted all of the toys into piles – LEGOs, dolls, dress up, trucks, etc. The hutch made a great home for dress up, small musical instruments, games and clothes for dolls. We used bins to hold LEGOs, trucks and train tracks. Now there's a place for everything…and everything is in its place.
before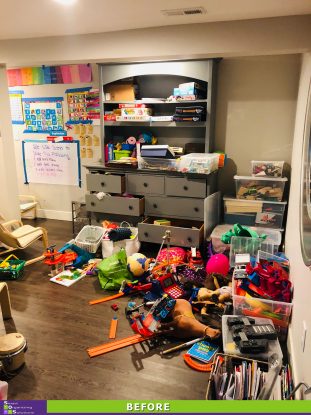 after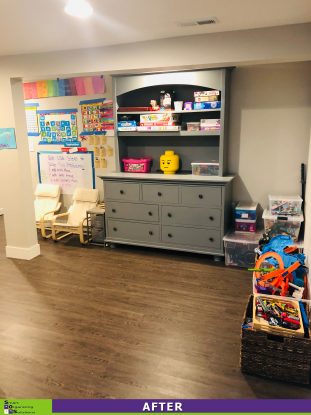 Play Time!
When this Denver woman moved into her new home, life took over and she needed help getting her basement play room and craft room in order. She wanted to turn the closet into craft central so we installed shelves, drawers and some utility boards from elfa to help create the perfect space for her crafty kiddos. She already had loads of bins so we sorted and organized all of the sewing , painting, coloring and jewelry-making items. Then it was time to turn to the play room itself. We finished unpacking boxes and bins and moved all non-kid things into their proper homes. Then we re-arranged the furniture and loaded up all of the shelves and baskets with toys and books. Now the kids have room to spread out and have fun!
before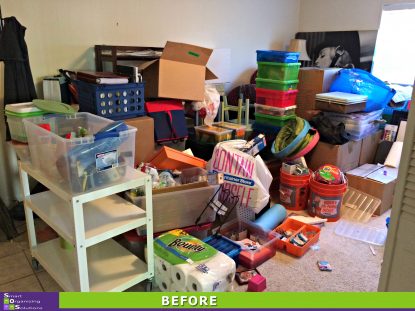 after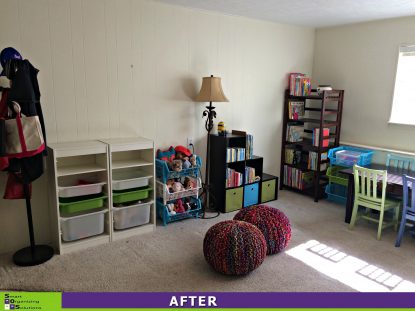 before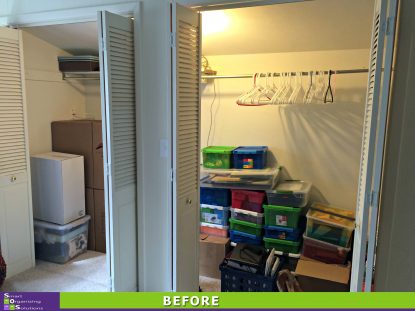 after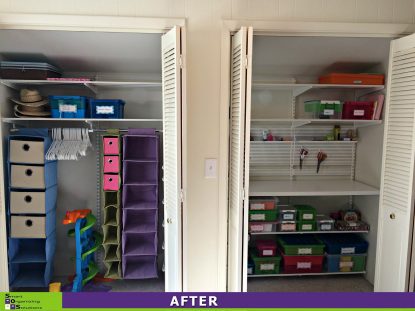 Playroom
As every parent knows, kids accumulate a lot of stuff. Especially toys. And when the kids' playroom is a part of the family room, keeping toys neat helps Mom and Dad keep their sanity. 🙂 To to de-clutter this play area, we sorted toys into keep, donate and trash piles. We then categorized the toys into dolls, doll accessories, stuffed animals, play kitchen, etc. Then we made homes for each category. At the end of the session, we had 6 large bags of toys to donate to less fortunate kids…and this Wash Park Mom was feeling happy and organized!
before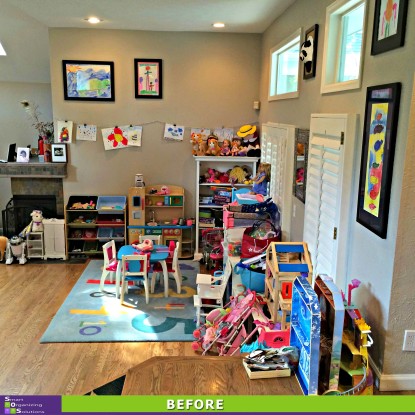 after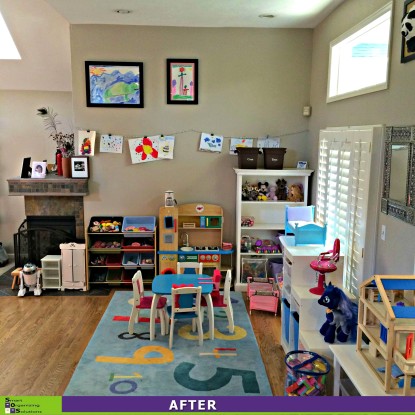 Kid Space Revamped
This was a such fun project. This Denver mom didn't know where to begin in this room. It's a study area for her kids, as well as a play room and craft area. That means lots of stuff to sort through. But SOS stepped in to help make the task less daunting. We started with the main area of the room itself. Toys, books and games were sorted into keep and donate piles. We made a new home for Legos in the existing shelf bins near the door. Now, instead of being scattered in many places, they're all together. Other games and toys were placed on the big shelves for easy access. Then we tackled the study area. Luckily both desks have lots of drawers and cubbies, so once we sorted the papers and supplies, it was simply a matter of putting them in homes that made sense for both kids. Up next was the closet. Costumes and craft supplies rule this space. But as you can see in the before picture, it was pretty hard to find, let alone get to almost everything. This homeowner is a big fan of elfa from The Container Store so we designed some new shelving to make this space more craft friendly. After hours of sorting and getting things into containers, voila! A beautifully organized craft and costume closet!
before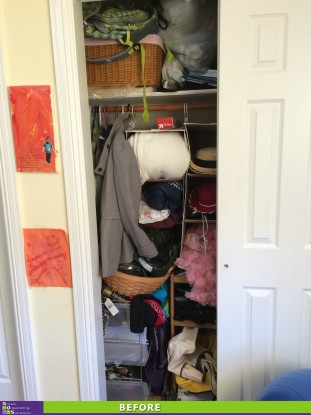 after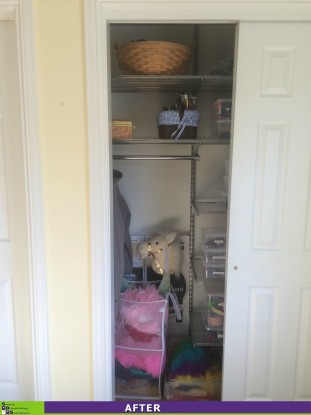 before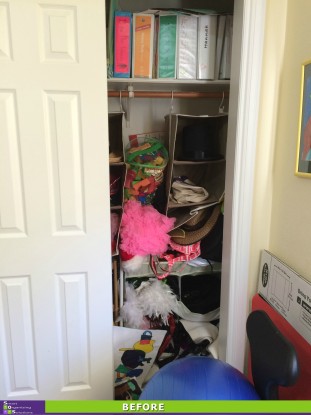 after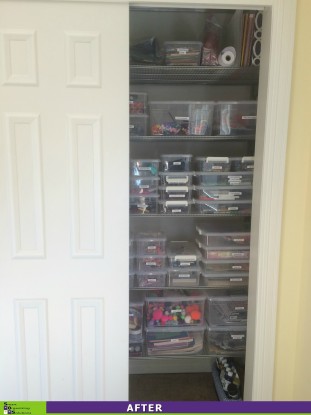 before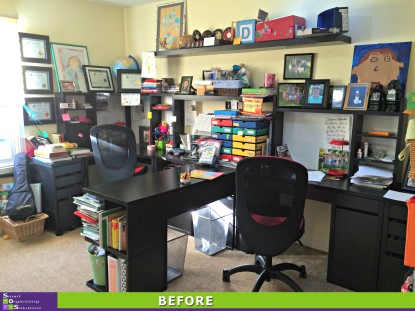 after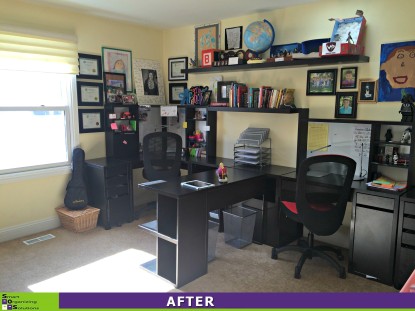 before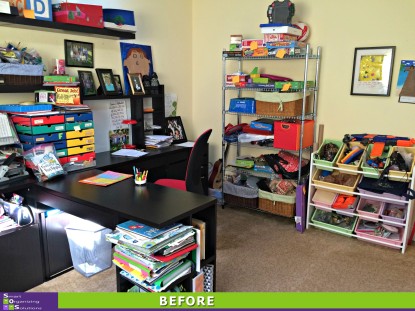 after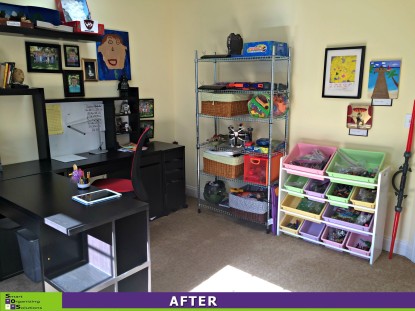 Playroom Perfection
Working with kids is a lot of fun. When they get involved in the organizing process, they know Mom and Dad think their space is important. When these Denver homeowners called me to help tidy up their basement family/playroom area, I also got to meet their daughter. She was really excited to learn that she would be helping with all the decision-making when it came to her toys. While she was at school in the morning, her Mom and I tackled the "adult half" of the space, which was basically everything at waist level and above. When my tiny client came home from school, we got busy with the fun stuff. I was so proud of her at the end of the day. She was very helpful getting all of her toys sorted into baskets (which Mom then labeled) and was generous about donating toys she no longer played with. And it made my heart happy when she told me that she was going to work really hard to keep her playroom neat and tidy so her Mom would be proud of her.
before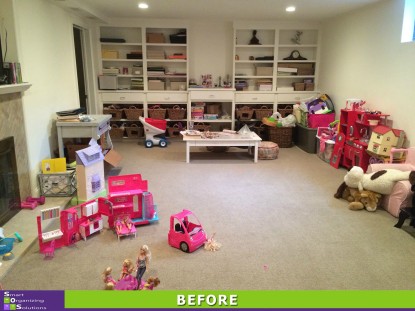 after