Fresh and Fabulous Pantry Makeover
For some reason, pantries seem to be one of the main spaces my clients have trouble keeping tidy. Thank goodness I absolutely LOVE organizing them. 🙂 The secret is creating categories: snacks, breakfast, pasta, soups, etc. For this space, we used baskets, canisters, lazy Susans and can dispensers to create an organized and functional space. And, of course, labels! I love when my clients let me geek out and make their spaces both pretty and tidy.
Pantry Makeover
This was a really fun pantry project! This Commerce City client had been dreaming of a farmhouse style pantry for years. When I told her we could accomplish that with some cute baskets, canisters and labels, she was all in. We also needed to give her some additional storage so we added elfa wall baskets from The Container Store to the space. For me, the chalkboard labels on the baskets and jars put the finishing touch on this warm and very organized pantry. 🙂
Pantry Envy
While this pantry had plenty of shelves to begin with, my client wanted a little something different. Drawers for linens, plastic party and outdoor eating supplies, teas and produce. She also wanted cubbies for cookbooks and to separate food categories. What a fun pantry to create and organize!
Pantry Perfection
I love when I get to both design a space and then organize it. This pantry was a really fun project. It's always amazing to me how much bigger the space looks once there's actually stuff in it. 🙂
Post Reno Organizing
This Denver woman made it through a major kitchen renovation and then decided she wanted help getting everything put away. Cue SOS! We first pulled everything she had already put in the cupboards and drawers. Then we unpacked all the boxes that had been in storage for months. Once we had like items categorized, it was a quick and easy task to get it all put away in an organized manner. What a lovely space to entertain!
before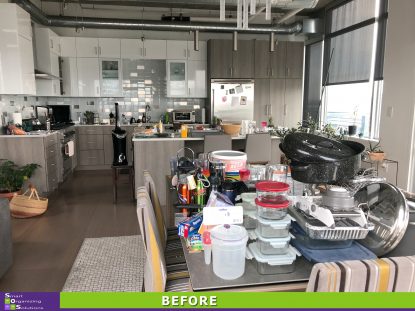 after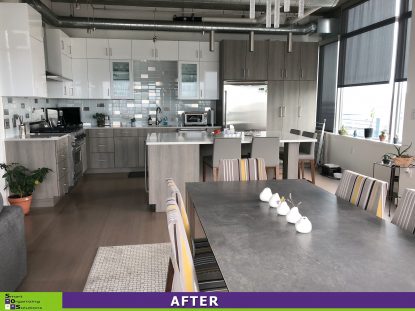 before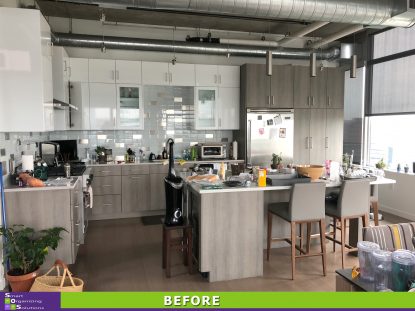 after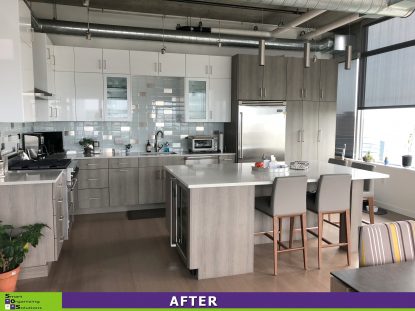 before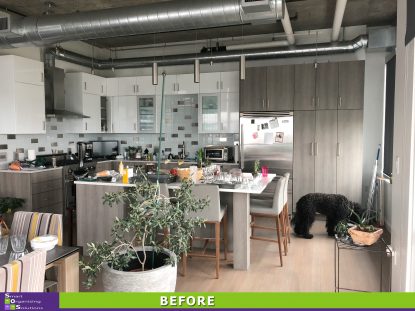 after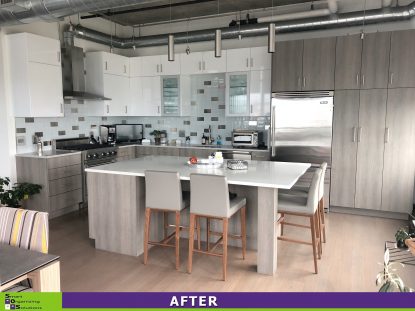 Operation Organization
Pantries are fun to organize, and boy did this one need some SOS TLC. Unlike many pantries I've organized, there was only one expired food item in this whole closet! Kudos to this Denver woman for that. However, there were lots of non-pantry type items taking up valuable space. Once we figured out where those items would go, we categorized and contained everything that would stay. My client now says this is one of her happy places. 🙂
before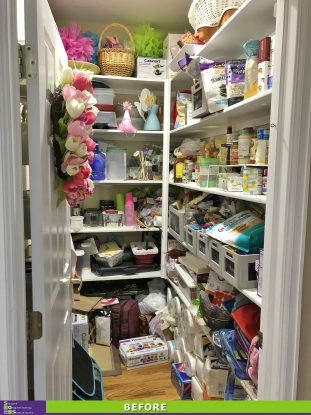 after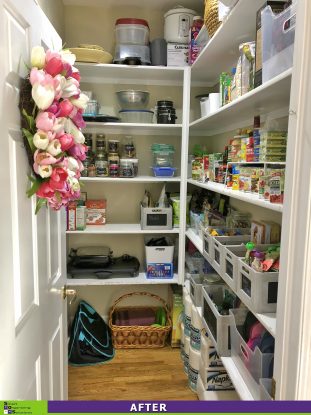 Pantry Purge
Sometimes the key to an organized pantry is simply tossing everything that has expired. 🙂 After the big purge, we categorized everything into groups so we could put like items together. Now everything is easy to see and my client knows just what she needs before she goes grocery shopping.
before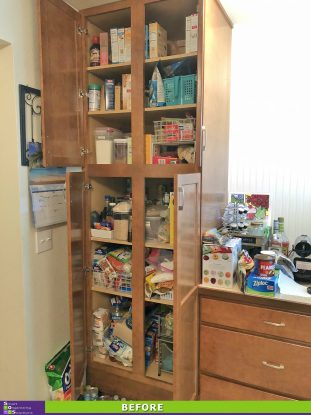 after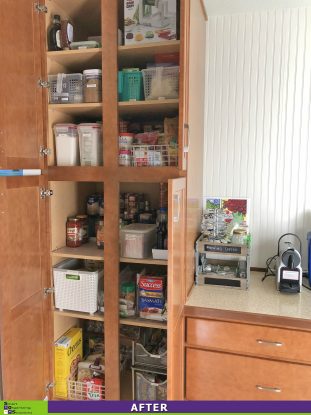 The Big Pantry Purge
An over-flowing pantry is no problem for SOS. After pulling everything out…yes, EVERYTHING, we checked expiration dates and filled several large garbage bags with old food. We grouped everything into categories and put them back into the pantry. We also made sure to put the oldest products in each group at the front so they get used first. Now this happy SOS client can see everything she has and can be more mindful the next time she goes grocery shopping.
Picture Perfect Pantry
Pantries are so fun to organize. This Denver woman really wanted a picture perfect pantry. After pulling everything out and tossing expired food, we categorized and put everything into bins and canisters. Spices that used to be jumbled up in big baskets are now lined up neatly on risers so they're easy to see and access. We labeled bins and shelves so each category has a home. Pretty, isn't it?!
A More Organized Pantry
Large pantries are great, but if they aren't organized, you can't see what you have and food goes to waste. This Littleton client and I pulled everything off the shelves and floor. We chucked expired food and donated appliances that were never used. We then categorized what was left: baking, soup, spices, breakfast, etc. and put everything back in an organized way. And, yes, we even alphabetized the spices. 🙂
Messy Pantry Makeover
With no organization strategy in place, this pantry spiraled into a disorganized mess. We added some extra shelves and door baskets to create more storage. A system of bins, baskets and labels made sure there was a place for everything.
Kitchen Spring Spruce Up
I absolutely loved working with this client in Stapleton to get her kitchen organized and spruced up for Spring.
This kitchen has loads of cupboards. We pulled everything out of every single one of them to make sure like items were kept together. Here's a peek inside a few of them. First up, the cupboard above the fridge. You can see that cutting boards were stashed on top of the refrigerator which meant moving them out of the way to get inside the cupboard. We moved those to a new location. We decided this cupboard would be for little used appliances like a turkey roasting pan and the wok. This is also where she wanted to stash all of her paper goods.
Next up…Tupperware and baking! Tupperware is the bane of every kitchen! I loved that my client already had a CD rack to hold lids. Once we matched lids with bottoms, we were able to toss the orphans. This is also the baking cupboard. And since they don't bake very often, the top two shelves were the best storage option. We pulled canisters of flour, sugar and other essentials from several other cupboards to make sure everything baking related was all in one place.
On to the cookbooks! You can see that this space held baking supplies, cookbooks, a veggie chopper, snacks and medicines. We sorted the cookbooks (donating several) and relocated a lot of the items in this cupboard to new homes. This space now holds cookbooks, cutting boards, meds and little used entertainment items.
Next we tackled the cabinet used to store extra food (think Costco trips!) and some entertaining items. Again, many of the items in this cupboard were relocated so they were in the same place as like items. Once that was done, we decided to make this a place for party trays, pitchers and extra food items.
The spice drawer was next! After tossing out expired spices and grouping sweet and savory together, this drawer was transformed. And before you ask, yes, the spices are alphabetized. 🙂
Several of the cupboards serve as a pantry. Here are the before and after pics of the snack, pasta and rice cupboard, as well as the breakfast, canned goods and sauce cupboard.
So there you have it! While we tackled every single cupboard, I wanted to share the most challenging ones in this particular kitchen. I hope this inspires you to organize your drawers and cabinets. And if you need help…you know who to call! 🙂
Pantry Clean Out
This pantry had everything needed to be organized – additional shelves, baskets, bins and a set of baskets on the door. But as you can see from the before picture, it was anything but organized. The secret to keeping a pantry in order is to periodically go through it and get rid of expired food. And that's what we did. We pulled everything out and tossed anything that had expired. We filled up 3 large garbage bags and we uncovered what I thought was a bag of dried mushrooms…but turned out to be really old hamburger buns (I wish I had taken a picture). 🙂 We put things back by category and now this Broomfield couple can see what they have and what they need to get on their next grocery shopping trip.
Organized Pantry
Sometimes all it takes to create calm in the kitchen is a more organized pantry. This Denver homeowner has a baking pantry and an everyday pantry. The baking pantry also holds cat food and special occasion serving dishes. In addition to food, the regular pantry holds plastic party ware, foils and storage bags and little used appliances. We first discarded everything that had expired. We then assigned each pull out in the pantry a category: chips and crackers, breakfast, coffee and tea, snacks, salad dressings and sauces and canned goods. We then did the same thing to the baking pantry. Now everything is easy to see and find.
Kitchen Cleanup
With plenty of shelf and cabinet space but no organization strategy in place, this kitchen spiraled into a disorganized mess. SOS steps in for a complete organizational makeover.
Pretty Pantry
Sometimes the smallest spaces can trip us up. This pantry and the overflow onto countertops had become an eyesore for a couple in Highlands Ranch.
The first thing we did was pull everything out and sort. Expired food was tossed and the rest was grouped by category: breakfast, baking, soups, pasta, canned goods, etc. We added a rack with baskets onto the inside of the door for a little extra storage space. The fixed shelves were both deep and spaced far apart, making it difficult to find and grab food. We added some additional shelves, under-shelf baskets, expandable 3-tier shelves and some bins for the floor. After that, it was just a matter of putting everything in its place.
Now it's easy to find and get to all of the items in the pantry. Better yet, we also freed up two countertops.