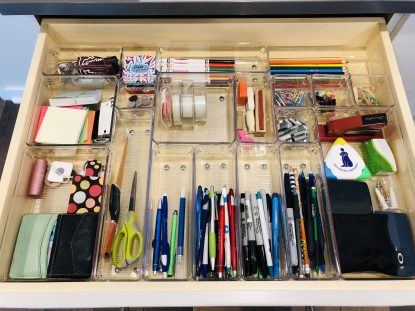 Yes, even my home has a junk drawer.  Well, I call it the anti-junk drawer.  And like yours, mine can get cluttered at times. So how can you organize your family's odds and ends?
Start by dumping everything out of the drawer.  Yes, everything!  Get rid of any obvious garbage – like dried out pens, rusted paper clips, dead batteries, broken rubber bands, used up candles.  You get the idea.
I love using drawer organizers to tame the chaos.  They keep items divided but easy to find.  Look for something that has multiple compartments.  Long sections work great for pens, pencils and tools.  Smaller sections work great for batteries, paper clips, thumb tacks and the like.
Nice and neat now, right?  Schedule monthly maintenance to keep it that way.  You should be able to quickly identify what belongs and what needs to be relocated or thrown away.
The ultimate goal is make your anti-junk drawer the smallest drawer in your home.