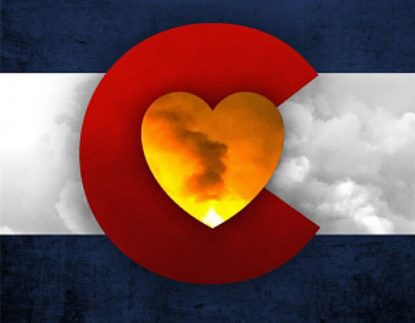 As many of you know, at the beginning of the year, a massive fire swept through the Superior and Louisville area of Colorado. Emergency evacuations affected thousands and it's difficult to put into words the destruction these fires left behind. So many people lost everything. Entire neighborhoods were wiped out.
When an emergency strikes, you and your family may have just minutes to leave your home and evacuate. Unfortunately, you can't take everything with you. If your home is destroyed, you may lose family photos and heirlooms. Hopefully this blog will help you prepare for an emergency evacuation AND help you think about how to preserve your memories in case the worst does happen.
A Google search will bring up lots of articles to help you make an evacuation plan. You can also check with your insurance company for ideas. I'm not an emergency preparedness expert, but I have done some research. Here are some ideas to get you started since it might be difficult to think with a clear head if that knock on the door comes and you're forced to evacuate immediately.
Have A Plan in Place
Establish escape routes, including ways to leave safely from an upper floor.
Establish a meeting place, both near your home and outside your neighborhood in case of an evacuation. This is important if you somehow get separated.
Prepare a Go-Bag. It should contain water, nonperishable food, a first aid kit, flashlight, battery powered radio, a 3-day minimum supply of medications, including a cooler or ice packs if they require refrigeration, your cell phone and a charger, glasses, contact lenses and solution, hearing aids and extra batteries, an ID band with your full name, an emergency contact number and a list of any allergies, extra clothing and shoes, a sleeping bag, computer hard drive or backup drives and your laptop.
You may keep important documents in a fire-proof safe. Make sure you can quickly get to them and take them with you. This includes a driver's license or photo ID, social security card, medication list, contact information for family members or close friends of the family, medical insurance card, credit cards and cash.
Have a plan in place for your pets. Of course, take them with you, but not all shelters or hotels will allow pets. Be sure to have food, water and other pet supplies you may need.
Steps You Can Take to Safeguard Your Valuables
Now, here are things you can do immediately to help minimize the loss in case of an emergency.
Make sure you are insured. If you rent, get renter's insurance. While the structure may be covered by your landlord, you want to make sure your personal belongings are insured.
Create a home inventory. This will come in handy if you need to apply for disaster aid and for insurance purposes. I've created home inventories for clients using photos and a spreadsheet with additional information for some of the more valuable items.
Make an Emergency Binder that contains all of the important documents and files you may need. Keep this binder safe and easily accessible. An idea of what you might need: Birth certificate, marriage license, passport, driver's license and/or photo ID, social security card, insurance policies (auto, home, life, etc.), your will, a list of prescriptions, stocks, bonds and other negotiable certificates, financial information such as bank, savings and retirement account numbers, your home inventory list. For most things you will need an original, but it's still a great idea to digitize all of these documents so you have an electronic back up. You can keep this on a thumb drive to grab and go, keep it in a safe deposit box and even upload it to the Cloud.
Get into the habit of backing up your computer each month, whether to an external hard drive or the Cloud. Keep the hard drive with your emergency binder.
Digitize important documents and photos. Yes, you may lose the actual paper photo or marriage certificate, but at least you'll have a digital copy that you can include in your escape pack or have in a safe deposit box. Digitizing your photos can seem like a huge undertaking. I have helped many clients organize their photos. In some cases, we've whittled it down to a few bins that would be easy to grab and go. In other cases, it's just too many boxes to even contemplate trying to take. In that instance, digitizing is the best way to make sure you still have those precious pictures in case the worst happens.
Use fireproof and water tight storage containers for your most important items. Please know that even the best fireproof safe and water-resistant bins are not completely heat or waterproof. They can buy you time in case of an emergency but having a digital back up is another precaution you can take. My husband and I have a small fireproof safe that's light enough that it will be easy for us to carry with us in case of an evacuation.
In your phone, create an emergency contact list. This will make it easier for emergency responders to locate family or friends in case you are not able to communicate. Make sure you keep this contact list up to date.
I hope you are never impacted by a natural disaster. I hope you never have to implement an emergency evacuation plan. I hope your precious memories and valuable always remain safe and with you. But I also hope this blog helps you take the necessary steps to protect your important belongings should you ever need to leave your home in a hurry.
If you need help, please give me a call. As a professional organizer, I have helped clients sort through and organize photos and memorabilia. I've put together home inventories. It would be a pleasure to help you, too!