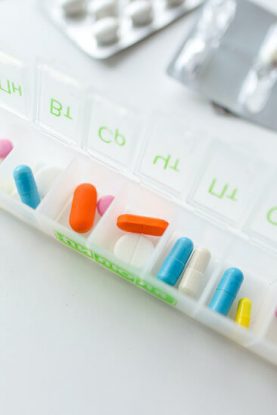 The best way to get started on your medicine cabinet cure-all is to empty all of the contents onto the countertop or into a box.  As you do so, toss anything that's expired or no longer needed.  Also see if there's anything that would be better stored elsewhere.  For example, I keep cotton balls and Q-tips in decanters next to the sink and things like hair care products in a basket under the sink.  Sort what's left into like piles: medicines, first aid, etc.
Before putting things back into the cabinet, take the time to clean the shelves and adjust them to maximize vertical space.
Now you're ready to re-stock!
Try to keep similar products together.  Cold medicines, pain relievers, first aid products, etc.  Place the products you use the most front and center.  And, if you have children, place medicines on higher shelves out of reach.
Because most medicine cabinets are limited in height and depth, you may find using clear bins or trays helpful for smaller items like tweezers, lip balms, creams, etc.  This will help keep them from falling off the shelves and allow more shelf space for bottles and boxes.
I would be remiss if I didn't talk a little bit about tossing expired medicines.  Don't  just toss them in the trash or flush them down the toilet.  Read prescription drug labels and follow proper disposal instructions.  You can also take advantage of drug take-back programs in your area.  These programs allow you to bring unused drugs to a central location for proper disposal.  Many pharmacies will also take unused medicines off your hand.  If you do toss medicines into the trash, please remove them from their original containers and mix them with something that would make them inedible, like kitty litter or used coffee grounds.  This will discourage kids, pets and people who intentionally go through trash looking for drugs.  Also put the mixture into some kind of container to prevent it from leaking out of the garbage bag.
It's a good idea to go through your medicine cabinet at least once a year.  Not only will it keep it organized, but it's a great way to make sure you're stocked and ready for any emergency.