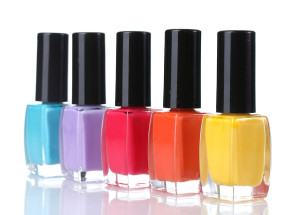 Here's something I didn't know. Nail polish is considered household hazardous waste. It's toxic to the environment just like house paint, pesticides, batteries and some household cleaners. It's definitely not something that should go in a landfill.
So what is the most responsible way to dispose of old nail polish? You need to take it to a household hazardous waste facility. To find a collection site near you, go to www.earth911.com. Click on Recycling Search and type in "nail polish" and your ZIP code.
It's a good idea to call ahead to confirm that you can drop off your polish and chemicals. Some sites only accept waste from residents of the county or city that owns them.
What if there isn't an HHW facility in your area? Several on-line sites say it's acceptable to let your polishes dry out by leaving them open outside, away from high heat and flames. Once they're completely dried out, it's okay to throw them away. This allows the solvents in the polish to break down and evaporate, which means they won't seep into groundwater. However, I'm not a fan of having the chemicals evaporate into the air so this should NOT be your first choice.
Many communities or cities hold hazardous waste collection days to collect old cleaning supplies and similar items. So check your community website for any upcoming events.
If your old nail polishes are still fine and you've just grown tired of the color or the brand, you might consider giving them to a women's shelter, a friend, or a friend with teenagers.