Once the holidays are over, it's time to take down and store all of your lovely decorations until next year.
But in keeping with this year's theme of decluttering your spaces, take some time to declutter your holiday décor. If you haven't put your decorations up yet, this is the perfect time to do it. Why keep what you no longer love?
Here are a few things you can toss, donate or recycle:
Broken Lights
It's time to admit defeat that you will never find that single bulb that is causing the whole string to fail. Just toss those already. It's worth your time and sanity to just go buy new lights.
Old Christmas Cards
I have so many clients who keep every Christmas card they've ever received. I understand the sentimental value of the photo cards and annual letters, but are you really going to re-read those letters? And what do you plan on doing with all those photos of someone else's kids, pets, etc.? Save (or better yet, scan) the ones you really want to save and recycle the rest.
Excess Décor
Whether it's ornaments, dishes, linens, etc., cull through your holiday décor and keep only what you truly love. If you didn't display it this year, what makes you think you'll use it next year?
Okay, so now you know what you're keeping, here are some smart organizing solutions to help you keep your décor tidy once it's time to put it away until next year.
Because you're storing precious items long-term, it's best to use air tight and water tight containers. This doesn't mean you need to go out and buy all new matching totes, but you should check to make sure your containers are free of tears and cracks and that lids fit snug and tight.
Lights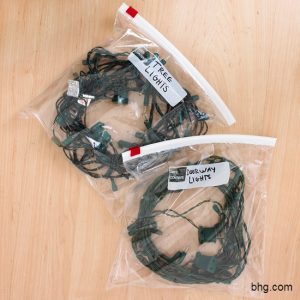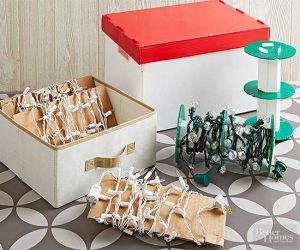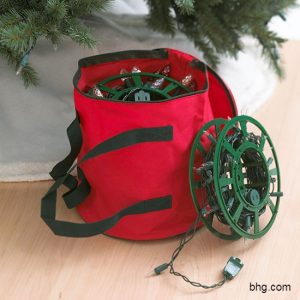 The goal is to avoid having to untangle a jumbled mess of light strands each year.  The method I've used for years is wrapping a strand around my arm and then putting it in its own plastic baggie.  I label the bag so I know where the lights belong.
You can also wrap them around a sturdy piece of cardboard. Cut a slit at each end to secure the plugs.
Custom light storage is also available from many stores.
Ornaments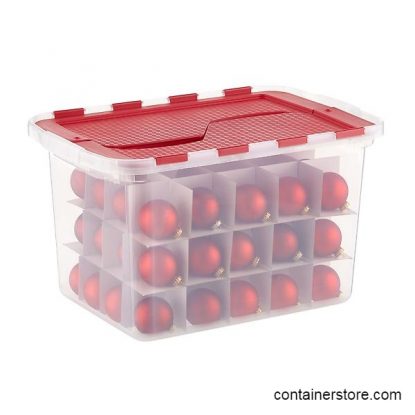 I don't know about you, but every year at Christmas, I just love unwrapping all of my ornaments. Some have sentimental value and some are just really cool. ? But none of them are the same. To keep them safe, I dedicate a bin to ornaments and wrap each one in tissue paper.
If you have lots of ornaments similar in size, you can buy ornament containers that have divided compartments. I would still advise you to cushion them in tissue paper.
Christmas Tree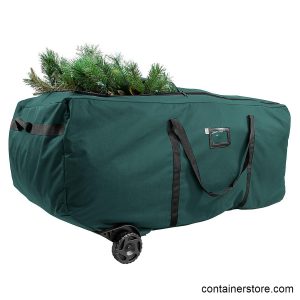 If you have an artificial tree, you already know what a pain it can be to pack away.  I'm pretty excited about my tree bag.  I was able to get rid of two giant plastic totes (cracks and all!) in favor of a rolling tree bag.  I'm also happy that our tree will stay together and not get quite as crunched as it did when we stuffed the pieces into bins.
Label, Label, Label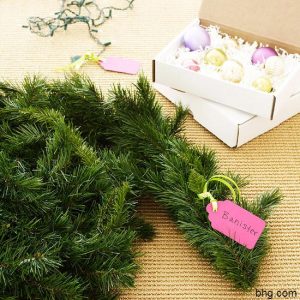 I'm a big fan of labeling.  Label your bins, label your lights and label anything that has a custom use…like an evergreen swag for a banister or fireplace.  Trust me, not having to figure out which strand of lights or evergreen belongs where will save you time and stress next year!  
Keep Original Boxes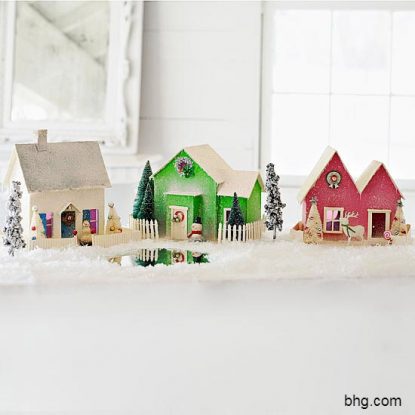 If you buy a nativity scene, ornament or table decoration, it's best if you can keep the original box it came in.  That custom packaging is the best way to keep delicate items safe.
Wishing you all an organized and happy holiday season!