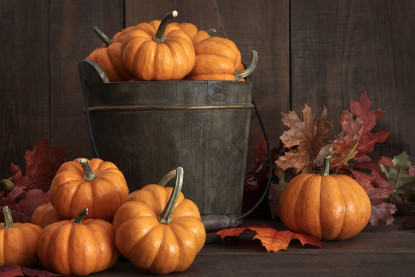 I don't know about you, but Thanksgiving dinner is my favorite dinner of the year. Turkey, potatoes, stuffing and pie. Just thinking about it makes my mouth water. However, preparing for it is another matter altogether. But by creating a game plan now, you can save yourself a lot of stress later.
Get ready for Turkey Day guests early by giving your home a thorough cleaning. Give some extra love to guest rooms, guest bathrooms and your fridge and freezer. That way, you only need to spot clean the day before your guests arrive.
Once the house is clean, get into a festive mood with decorations. I, myself, don't do much in the way of Thanksgiving decorations. But there are now so many great (and easy!) ideas on the internet for wreaths and centerpieces that I'm going to give it a try this year.
Put together your guest list. Having a head count is key.
Plan the meal. Are you going to go it alone or make it a pot luck? Most people opt for the pot luck plan. Figure out what dishes you want to serve and then ask people what they'd like to bring. You can also delegate by course: appetizers, drinks, dessert, sides, etc.
Make a grocery list. Once you know what you're making, put together a shopping list. Shop early for non-perishable items. And, if you're buying a frozen turkey, get it now. You cleaned out the freezer so you have space for it. Save other fridge items for a few days before Thanksgiving.
Plan out what you can do ahead of time. Wash your serving dishes, make sure you have enough table linens and place settings, make sure you have enough chairs, plan your cooking schedule and decide what you can prepare ahead of time.
Prep early. Don't spend all of Turkey Day in the kitchen. Enjoy this time with your family. So much of this meal can be done ahead of time. Chop veggies, bake pies, make the stuffing and thaw the turkey. Do what you can early to minimize what you need to do the day of.
Plan for leftovers. If you want to send guests home with leftovers, make sure you have containers to send home with them. And if you don't want to worry about getting your good Tupperware back…buy some inexpensive disposable containers and tell them it's all theirs! My husband's family has a wonderful Thanksgiving tradition. After all the guests have left, the remainder of the turkey is used to create a fabulous base for soup. It simmers all night and the next day. Homemade noodles are thrown in at the last minute. Even leftover mashed potatoes have a role in this day-after tradition. A scoop of spuds goes at the bottom of the bowl, followed by the soup. I know…it sounded weird when I first heard about it. But trust me…the turkey noodle soup over potatoes is my 2nd favorite thing about Thanksgiving.
Happy Thanksgiving, Everyone!