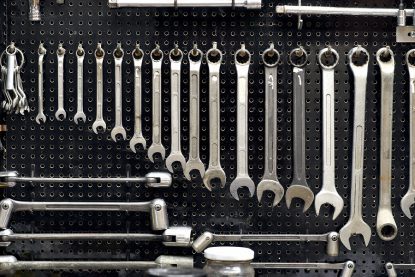 Garages are often one of the most cluttered spaces in the home, and as such it can be overwhelming to get started. A clean and organized garage isn't just satisfying, it's also a perfect way to improve the level of comfort in your home.
In June, we wrote a blog post to get you started with your garage organization project. Now, with winter around the corner, here are some additional tips to help you get ready for the cold months ahead.
Repeat the basics.
If you followed our tips for creating an organized garage, or if you've tried to keep your garage orderly, you'll still need to make some small changes to prepare for the winter months. 
First, it's always a good idea to repeat the essential steps. Quickly go through your garage and get rid of anything you no longer need or use. You might not be able to move everything outside if it's too snowy, but you can move through your garage one section at a time, making smaller piles indoors.
Second, you'll want to double check your zones. Zones are groups of similar items that can be kept together for efficiency (i.e. tools, lawn equipment, sporting gear, etc.). Over the course of time, everyday life can make even the most organized space fall into disorder, so this is a good time to make sure everything is still in its proper place.
Reorganize by need.
As the seasons change, it's good to adjust the way you organize. A system you have in place during the warm months may not serve you as well in the winter. Rearranging the space early can make it easier to get to winter items quickly without needing to move anything else around.
Even with efficient garage storage systems, bringing certain items to the forefront are helpful in the long run. You can put the summer-specific items away for the next several months and bring the winter gear out. 
What types of things should you consider making more accessible?
Snow shovels
Snow blower
Winter clothing (gloves, boots, headgear, heavy jackets)
De-icer or salt
Sleds, skis or snowboards
Holiday Decorations
What kinds of items can be moved to a less accessible space in the garage?
Camping equipment (unless you're very brave)
Kayaks
Yard/Gardening Tools
Pool Supplies
Sports Gear
Easy Maintenance:
Make sure the floor space is empty and there's room to maneuver. Fitting your car in the garage is especially important in the cold months.
Clearing your garage floor is the best place to start. As we mentioned in the June post, it's important to utilize vertical space. With storage options like garage shelving, PVC slatwall and overhead storage racks, you can easily store your belongings safely off the floor.
Another benefit of opening up the garage space is that it makes climate control more efficient. With more things out of the way on the ground, space heaters can have a much easier time affecting the rest of the room. Not to mention it's much safer to run space heaters in a space clear of boxes, bins or other items.
Garages may seem like a daunting task, but if you've followed the advice in previous blogs, getting prepped for winter should only take a couple of hours.  Plan some time this weekend to get everything sorted (literally). Garage organization can be one of the most rewarding home organizing projects.
And, as always, if you need help, give me a call!  I LOVE organizing garages!
Trent Skousen, a guest writer from Garage Storage Solutions, helped contribute to this article. Garage Storage Solutions is a Denver-based garage enhancement company. They specialize in providing homeowners with storage products, such as garage cabinets, shelves and overhead racks.