You want to be more organized. I know you do because you're visiting my website and reading this blog. If the thought of tackling your closet, an entire room or (gasp!) the whole house is just too intimidating, start by tossing 10 things in 10 minutes.
I'll even get you started with some lists!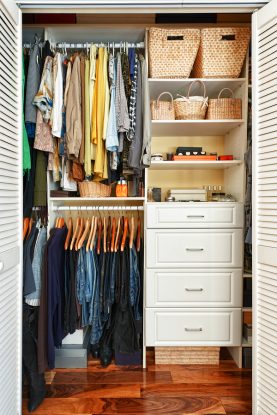 Your Closet
Socks with holes in them or socks with no match
Clothes that no longer fit your style
Clothes that no longer fit…period
Shoes you don't wear – I'm talking scuffed, uncomfortable or out of style
Shirts with stains
Ratty t-shirts
Bras that don't support the girls
Old underwear
Wire hangers – please, please, please take them back to the dry cleaner. Your clothes deserve better!
Clothing you'll never get around to mending
The Bathroom
Frayed towels and bed linens
Old makeup – yes, it does expire
Toiletries you never use
Expired medicine and vitamins
Dried up nail polish
Hair accessories you don't use
Empty bottles of cleaning products – why do people put empty bottles back under the sink?!
Perfume and cologne that's gone bad or you no longer wear
Old toothbrushes
Ratty rugs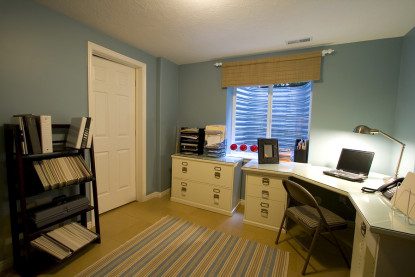 Your Home Office
Dried out pens and markers
Bent paperclips – and, do you really need more than a handful?
Broken and out-dated electronics
Old paperwork and bills
Cables, cords and wires for electronics you no longer have
Junk mail
Past address labels – if you no longer live there, why are you keeping them?
Outdated computer software discs
Old cell phones, accessories and covers
Manuals – have you ever read one?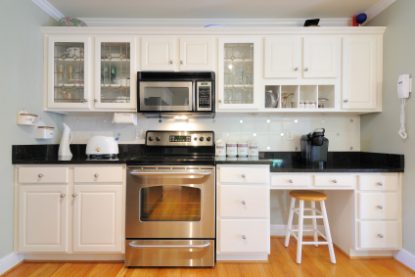 The Kitchen
Expired Food
Expired spices – yes, they do lose their flavor
Duplicate cooking utensils
Gadgets you don't use
Melted plastic containers and containers missing their lids
Old or broken dishes
Vases you never use
Free promotional mugs that don't match your dish set
Ratty or stained dish towels
That nasty dish sponge – you should replace them regularly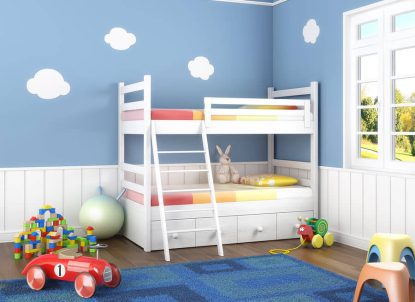 Kid Stuff
Broken toys or toys your kids have outgrown
Broken or worn-down crayons
Shoes that don't fit
Clothes that don't fit
Books they've outgrown or won't read again
Puzzles with missing pieces
Board games with missing pieces
Old car seats
Baby furniture you no longer need
School papers or artwork that you've deemed "not special enough to keep"
General Stuff
Magazines – if you haven't read them by now…
VHS tapes – unless of course you still have a working VHS machine
DVDs you don't watch
Old pillows
Decorations you don't like or display
Old paint
Books – have you read it yet? Will you read it again?
Broken jewelry or earrings with no mates
Nearly everything in your junk drawer
Dead batteries
Go ahead. Walk into any room in your home. I bet you can find 10 things to toss in no time!
And, as always, if you need help, give me a call!